The wedding day is a unique moment, full of emotions and joy. It goes beyond the ceremony, where the all-important "yes" is said and your heart swells with happiness. The party continues with joy and fun during the reception! If you're looking for fun activities to entertain your guests, the wedding dance is a must! Stemming from years of traditions that have enlightened generations, it is one of the most popular forms of entertainment.
And if you're not sure how to organize it, don't worry! In this article, you will discover everything you need to know about the wedding dance and some ideas to surprise your guests.
Origin and history: What is a wedding dance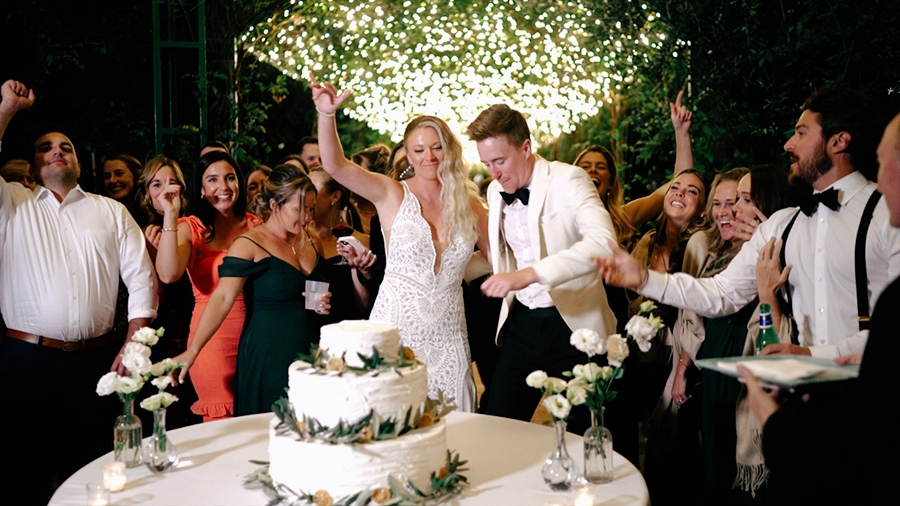 The wedding dance, also known as the "First Dance" in the United States, is a tradition deeply rooted in history that has evolved across different cultures around the world. During medieval Europe, it became customary for newlyweds to share their first dance as husband and wife. This inaugural dance served as a touching symbol, marking the beginning of their marital journey, a moment steeped in intimacy and celebration. Typically, the wedding dance was accompanied by live music or an ensemble that serenaded the couple with romantic tunes.
In numerous African, Asian, and Middle Eastern cultures, the wedding dance takes place in spectacular group choreographies, involving family, friends, and the entire community. These collective performances are often dynamic, featuring intricate steps accompanied by traditional music and catchy rhythms.
The wedding dance has become seamlessly integrated into wedding celebrations around the world, signifying the union and joy of love between the bride and groom. In addition to being a romantic interlude for the couple, the wedding dance offers numerous ideas and possibilities for friends, family, and guests to join together, laying the foundation for the celebrations to take place.
Wedding Dance: Why they are a good idea to entertain guests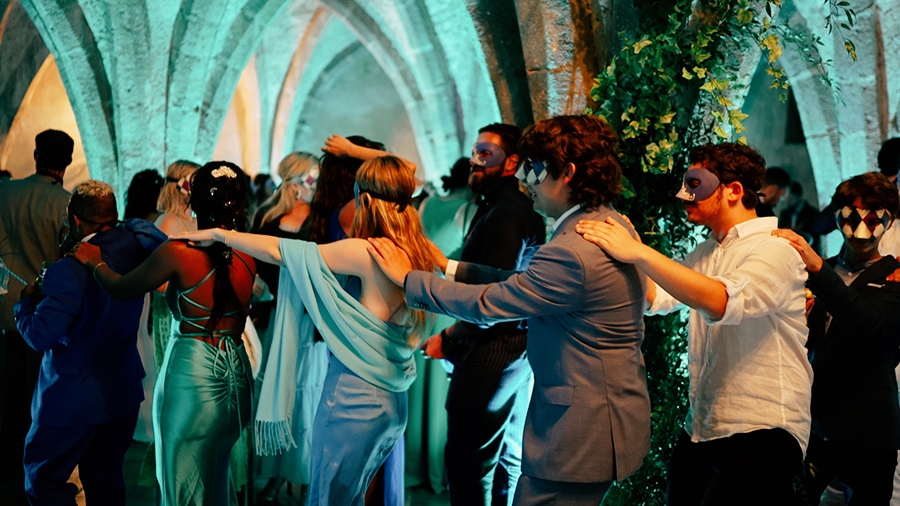 The wedding dance is much more than just a dance; it is a unique opportunity to amaze guests and infuse joy into the atmosphere. This form of entertainment involves both the spouses and all the participants, providing a spectacular moment for everyone present.
So, what sets the wedding dance apart? It's the fusion of elements like choreography, and music and the flexibility to adapt it to your preferences!
For example, it can be orchestrated to involve not only the couple but also friends, family, and other guests during the dance. Undoubtedly, it is a delicious way to integrate everyone and kick off the celebrations.
There are many ideas and possibilities, whether it's a romantic dance, a playful choreography or a combination of both, the wedding dance is an opportunity to show your personality and turn your reception into an unforgettable party!
Some ideas for an engaging wedding dance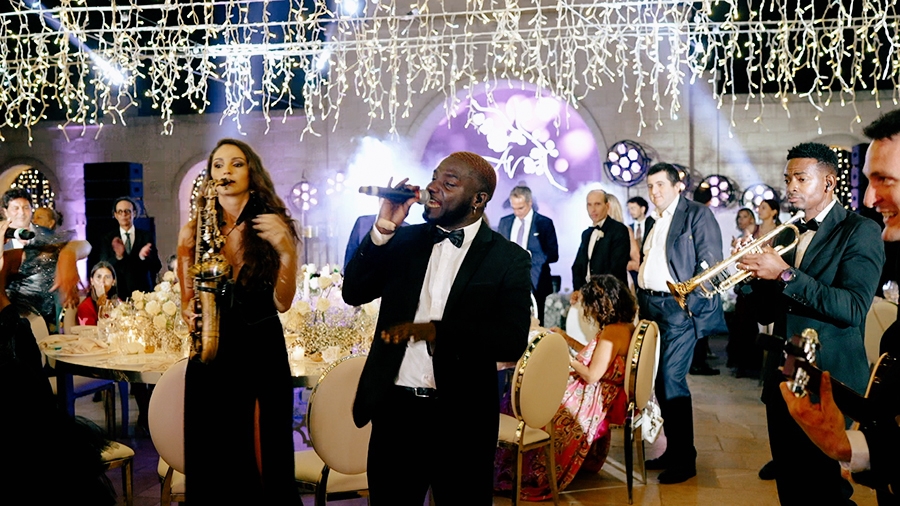 Just like every detail in wedding planning, attention to detail and creativity are essential when planning your wedding dance. Whether it's dancing as a couple, with parents, or with friends, there are many alternatives and ideas for an engaging and spectacular wedding dance. Let's explore them together:
Couple wedding dance
To the romantic melodies of Ed Sheeran's "Perfect" or the dynamic rhythms of Daddy Yankee's "Gasolina", the couple's wedding dance embodies one of the most traditional and timeless ideas. It has the potential to weave a delightful mix of romance and joy, drawing inspiration from iconic movie scenes like those found in "La La Land" or customizing a unique performance exclusively for you! And if dancing isn't your strong point, don't worry: a few hours of practice during the week and the result will be nothing short of wonderful!
Father and daughter wedding dance
It can be either a moment of tender affection or a wild dance. However, if you're inclined to make it more alternative, why not add a twist? Maybe you can start with your favorite emotional songs, then seamlessly transition into dance floor-worthy moves that are sure to entertain everyone!
Wedding dance bride with bridesmaids
Certainly what enchanted your sweetheart was not only your personality but also your sensuality! In this scenario, a delightful alternative for the bride is a wedding dance with her bridesmaids. A quick change into more comfortable and perhaps sexier clothes, and you're ready for a dance that will fascinate everyone!
Consider swaying to Beyoncé's amazing hits, providing even more fun and joy, not to mention the element of surprise that will leave your partner speechless.
Coordinate everything with the bridesmaids without letting a word escape anyone. You will leave everyone speechless!
Group wedding dance
Looking for a way to amp up the fun for friends and family? Consider orchestrating a group wedding dance! Whether it's the trending hits that currently dominate social media or the timeless tunes that never go out of style, you have a multitude of options. Plus, the chance to rehearse together in the weeks leading up to the wedding offers the opportunity to strengthen bonds, relax, and have fun. Not to mention, you'll create an unforgettable memory that you'll look back on for years to come.
In conclusion
The wedding dance, rooted in ancient traditions, continues to shine today as one of the most effective ways to make your big day unforgettable, offering numerous ideas to make it a unique event. Whether it is celebrated as a couple, with the bridesmaids, together with the groom's friends, or with the father, whatever choice you make will surely be appreciated, adding a special touch to your reception.
Are you looking for a wedding videographer? We are here to offer you a professional service to capture the most important moments of your special day.