Exclusive Wedding at Villa Cimbrone
A dream experience
Per and Capri requested the utmost commitment from our entire team of videographers to capture in a film their wedding at Villa Cimbrone, one of the most beautiful and exclusive locations on the Amalfi Coast.
We are proud to present the story of their wedding, a unique love story that will give you unforgettable images of that special day.
Per & Capri
WATCH THE WEDDING FILM
The dream wedding at Villa Cimbrone, Ravello.
The Amalfi Coast, a fantastic location
Per and Capri, coming from Sweden and Louisiana respectively, got married in one of the most prestigious locations in Ravello: Villa Cimbrone. Their dream was to celebrate their love in a magical place, and they couldn't have chosen better.
The celebration of their wedding took place over several days, starting with a White Party in Capri two days before the wedding. The ceremony was held in the spectacular garden of the villa, surrounded by the wonderful panoramic views of the Amalfi Coast.
After the ceremony, the bride and groom and their guests celebrated in the evocative atmosphere of Villa Cimbrone's crypt, and the film of their wedding perfectly captures the best moments of these special days.
Per and Capri's was a luxurious and emotional wedding, which will leave an indelible memory in the hearts of all those who had the fortune to attend.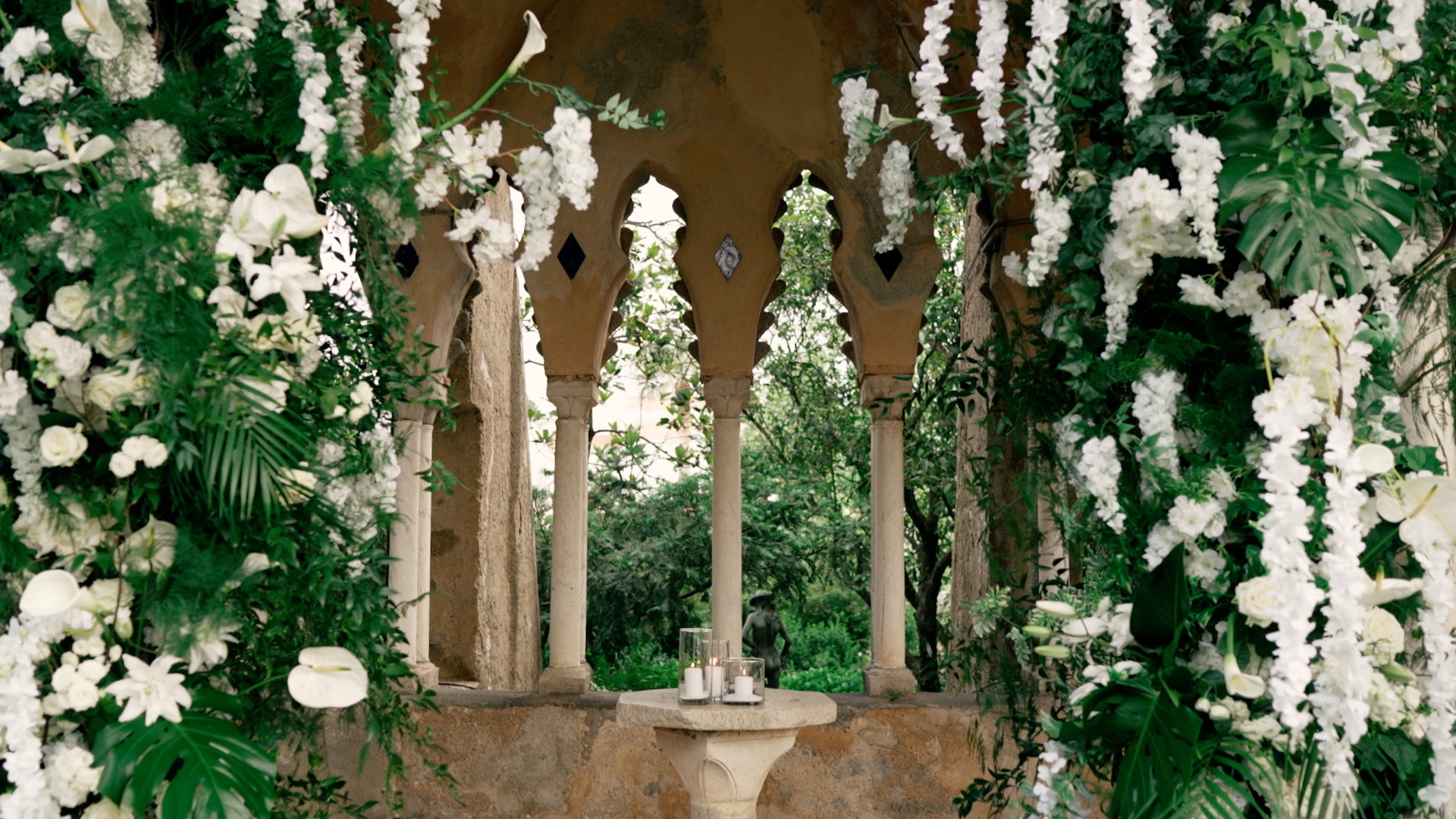 Unforgettable memories
Wedding photo gallery
WEDDING VIDEOGRAPHER VILLA CIMBRONE
Relive the best moments of your wedding at Villa Cimbrone
Book now
A team of expert videographers for all your needs
Are you looking for professional videographers to capture the most important moments of your wedding at Villa Cimbrone? We are here to offer you a personalized and high-quality service. The unique beauty of the Amalfi Coast deserves to be captured at its best to create an unforgettable memory for you and your family. Our team of expert videographers will use the latest technologies to create a film that captures emotions, details, and the beauty of the place.
The importance of choosing the right videographer for your wedding cannot be underestimated. Don't hesitate to reach out to us to discuss your project, we will be happy to help you create the perfect film of your wedding at Villa Cimbrone, Ravello.