The wedding day is one of the most important moments in life, and every couple prepares for the event well in advance so that every detail is perfect. However, some aspects, such as choosing the right wedding videographer, are often overlooked, leaving a bit of bitterness among the pleasant memories. To avoid any regrets, it is necessary to rely on a professional figure who can capture authentic reactions, moving moments, the atmosphere, and emotions of the event, imprinting them in a lasting and high-quality video.
The wedding day is a whirlwind of emotions that quickly dissipates, so being able to capture those precious moments, relive them, and share them can be a wonderful experience. In this article, you will discover the importance of relying on a professional and the factors to consider when choosing the ideal videographer for your needs.
Choose the style of video you prefer for your wedding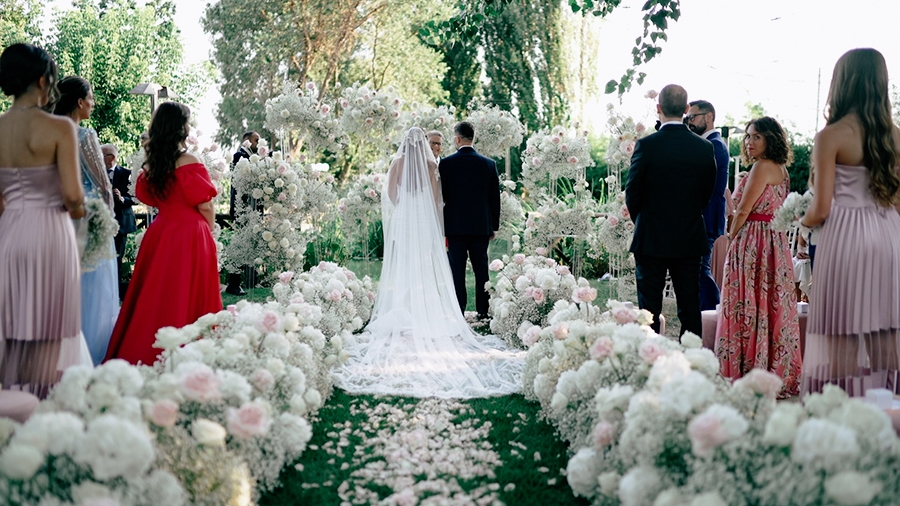 Each wedding videographer has a distinctive style, so it's essential to identify how you want your wedding to be immortalized to choose the right professional. Do you prefer a journalistic style that documents your day in a linear way, as it happens from start to finish, or a cinematic wedding video, shot like a movie, that focuses on the emotion and drama of the day? 
Take the time to watch different wedding videos to understand which style attracts you the most, then examine the portfolios of wedding videomakers to verify if their work meets your expectations.
Book and plan your budget in advance
Like the photographer, the videographer is usually among the first providers that couples book, and since this service is becoming more and more popular, you should choose and book in advance to secure the best videographer for your event. Try to book 12-18 months in advance of your wedding date. Regarding the budget, you should invest the same amount for both the wedding videographer and photographer. Remember that the only things you will have left after the event are the photos and the video memory, everything else fades over time. Therefore, photos and videos are an investment, not just another cost to bear.
Choose the right service for your wedding
Before signing a contract, it's important to choose the package that meets your needs, so it's important to evaluate which services are included in the wedding videographer's offered rate. For example, many couples request aerial footage with a drone or short versions of the video to share on social media, which if not included in the service package, will incur an additional cost for editing.
Check the reviews
The wedding video is an important investment, in order to choose the best videographer and get a quality and professional work, consider the reviews of couples who have already relied on their service. Reliable videomakers will be happy to share testimonials from previous clients and you may even have the opportunity to speak directly with them to find out more about their experience.
Choose a professional who you can trust
You are inviting this person to witness and document one of the most special days of your life, so it is crucial to choose a videographer with whom you feel comfortable, especially in an event full of emotions like a wedding. Choose someone with whom you feel completely at ease and have an easy time, so that you can be yourself and feel confident that they are capturing every moment in a genuine and natural way.
In conclusion
Choosing the right videographer for your wedding is a crucial aspect not to be underestimated. The video of your wedding will be one of the few tangible memories you will have to relive that special day over and over again. For this reason, it is important to book in advance, plan your budget, confirm what is included in the price, look for reviews and testimonials from recent weddings, and, above all, choose someone with whom you feel comfortable and connected. By following these tips, you will be able to find the perfect videomaker for you and ensure that every special moment of your wedding is captured masterfully.