Conventional wedding videos of the past, often recorded by people like your Uncle Bob with a video camera, have evolved into modern wedding films, which cleverly encapsulate the true spirit of the wedding day and the couple's distinctive personalities. In this article, we will delve into what were the factors that led to the rapid rise in popularity of modern wedding films among couples today. We'll also explore why this style is the perfect way to immortalize your special day and safeguard those precious memories.
Cinematic Mastery: Redefining Wedding Videos for Modern Couples
Let's start by defining the essence of modern wedding films. These are elegantly crafted cinematic productions that expertly encapsulate the emotions, vibrancy and elegance of the wedding day. They surpass traditional wedding videos, which often relied on a single camera to easily record the ceremony and reception.
In contrast, modern wedding films are carefully curated to weave the narrative of your wedding day. Typically, they are recorded using multiple cameras, often with a team of skilled videography directors, and are meticulously edited to create a cinematic experience that effortlessly takes you back to the most cherished moments of your wedding day.
The Evolution of Modern Wedding Videography
As the field of wedding videography continues to advance, a clear trend towards more imaginative and cinematic approaches is emerging. Couples are increasingly seeking a wedding video experience that transcends traditional norms, eschewing an over-reliance on slow-motion sequences in favor of a depiction that authentically captures the very essence of their wedding day, infused with of entertainment and charm.
This shift towards modern wedding films is driven by couples' expectations as they desire unique and personalized film documents. Their wedding day serves as a profound reflection of their individual personalities, meticulously curated to highlight their quirks and passions.
In this ever-changing landscape, wedding videographers must adopt a forward-thinking mindset, freeing themselves from formulaic approaches that produce homogeneous results. They should instead embrace innovation and creativity, thus paving the way for even more remarkable progress in the years to come.
Our Wedding Film Amalfi, shot for the couple Luigi and Angela in the splendid location of Anantara Convento, is an example of how modern wedding films can be much more compelling and captivating.
The Modern Wedding Film Experience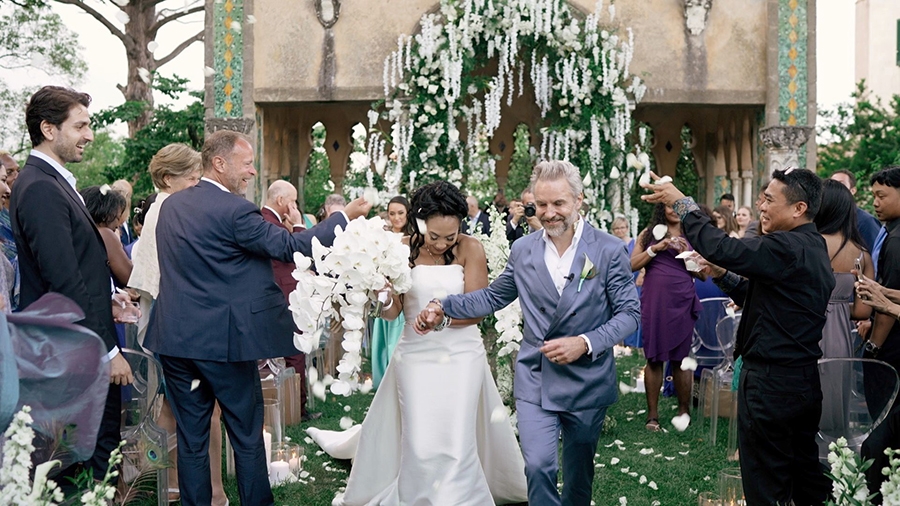 One of the main advantages of contemporary wedding films is their ability to encapsulate the emotions and vibrancy of the wedding day. In general, conventional wedding videos can appear static and lack depth, being edited in a simple and straightforward manner, resulting in a lackluster and uninspired final product.
In contrast, modern wedding films undergo more cinematic editing, resulting in a visually stunning and compelling film that is dynamic and engaging, immersing the viewer and making them an integral part of the unfolding narrative. So imagine that the final result of your wedding film takes on the style of a music video.
Evolution of Wedding Videography: From Bulky Cameras to Dynamic Moments
The world of wedding videography has seen a notable evolution in recent decades. In the past, wedding videos were commonly shot using bulky analog equipment, which presented challenges in terms of mobility and operation. This limitation often resulted in an inability to effectively capture the energy and emotion of the wedding day, leading to less engaging and inspiring videos.
In contrast, modern wedding directors use compact handheld cameras, giving them the flexibility to fully immerse themselves in the heart of the wedding action. They can join you on the dance floor and enthusiastically support you through your morning preparations, ensuring a dynamic and emotionally resonant recording of your special day.
Cinematic Love Stories: The Artistry of Modern Wedding Films
Modern wedding films are an artistic endeavor aimed at capturing the very essence of the wedding day. They achieve this by prioritizing the emotions, vibrant energy, joyful moments and overall sense of fun that the occasion instills. Furthermore, they skillfully weave the narrative of the couple's love and commitment. This delicate fusion of careful planning, expert cinematography and expert editing produces a unique and emotionally resonant film, a lasting memory that will hold a special place in the couple's hearts for years to come.
Countless modern wedding films are easily accessible online, each presenting a unique and memorable depiction of the beauty and emotions experienced on the wedding day. Some of the most outstanding examples can be found on popular video-sharing platforms like Vimeo and YouTube, where talented videographers from all over the world share their creative work.
In conclusion
Modern wedding films have truly revolutionized the way we capture and relive the magic of weddings. They have evolved from traditional, static recordings into dynamic, emotionally charged narratives that take us back to that special day. By focusing on emotion, vibrant energy and storytelling, modern wedding films offer couples a timeless keepsake that captures not only the events but also the essence of their love and commitment.
The availability of these films online has made it easier than ever for couples to explore and appreciate the art of wedding videography around the world. Platforms like Vimeo and YouTube serve as a source of inspiration, showcasing the boundless creativity and talent of videographers.
As the world of wedding videography continues to innovate and push creative boundaries, we can expect even more breathtaking and emotionally resonant wedding films in the years to come. These films serve as lasting memories, precious reminders of the love and joy experienced on one of life's most special occasions.