While you may not have enough cinematic knowledge to analyze the elements that turn a film into a masterpiece or forgettable disaster, you undeniably have a discerning palate for cinematic experiences. Whether you're a fan of rom-coms or prefer timeless classics, you must approach your wedding video with the same fervor and zeal you reserve for your beloved big-screen selections.
The quest to discover a videographer whose artistic style aligns perfectly with your wedding day vision and authentically resonates with your personality can involve extensive research and numerous meetings. However, having a well-defined understanding of your preferences can undoubtedly facilitate and streamline the entire selection process.
In this article, we'll help you expand your knowledge by talking to you about diverse wedding video styles to consider for your big day
Diverse styles of wedding videos: Which one to choose?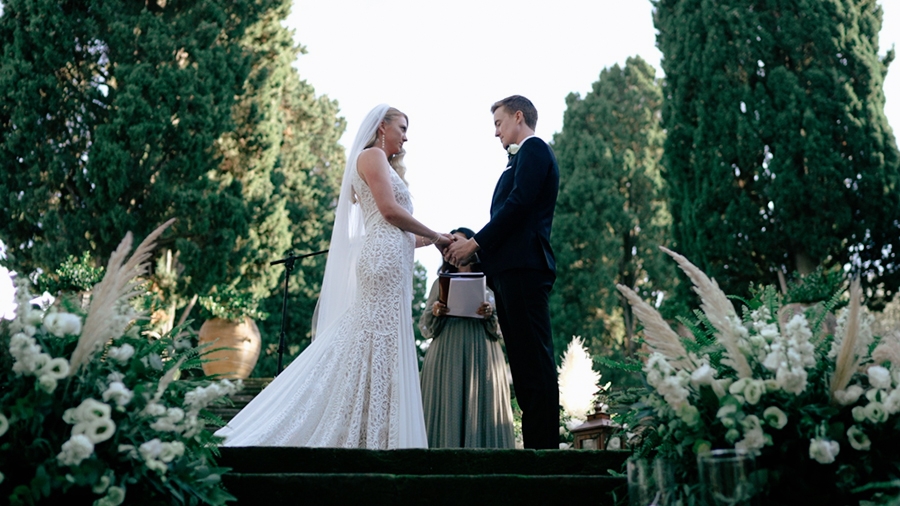 So here are diverse video styles to consider for your wedding: documentary, cinematic, traditional, narrative, and vintage. Here's what to know about each and the pros and cons to keep in mind.
Cinematic
In the context of diverse wedding video styles, even though the term "cinematic video" might appear contradictory, it primarily functions as an industry abbreviation.
A cinematic videographer crafts a visually stunning, thoughtfully curated, and emotionally resonant film that immerses you in a cinematic experience. When opting for a cinematic edit, you can anticipate the inclusion of meticulously selected music, recorded toasts, and speeches from your reception, as well as the overarching narrative that encapsulates the couple's wedding and their journey together.
For example, you can watch our Sorrento Wedding Film that we shot for the couple Matthew and Lauren at Villa Zagara on the beautiful Sorrento coast.
Documentary
Within the realm of diverse wedding video styles, a videographer employing a documentary-style approach fully embraces an unobtrusive cinematic style. Expect the filmmakers to remain unobtrusively in the background, capturing moments as they unfold naturally, without any stage direction. 
You won't find requests to gather friends on the dance floor for choreographed moments with the camera or staged poses during portrait sessions. This approach can sometimes produce a less refined and more spontaneous atmosphere, reminiscent of handheld and slightly shaky camera work. The result is a candid, behind-the-scenes depiction of how your day naturally evolved, often capturing moments that even you and your partner may have missed.
The final version of a documentary-style film primarily emphasizes a chronological account of events rather than intricate storytelling. It captures moments from the entire wedding weekend in a straightforward, sequential manner. This style places its focus on utilizing natural audio, keeping editing to a minimum, and avoiding the inclusion of music.
Traditional
Traditional wedding videos are cherished for their simplicity, devoid of extravagant embellishments such as flashy transitions, featuring minimal musical accompaniment, and employing straightforward editing techniques. Nevertheless, they exude a nostalgic charm that resonates with many couples. 
A traditional wedding videographer hearkens back to the experiences of yesteryear, reminiscent of what your parents likely encountered. Their primary focus lies not in pursuing creative extravagance; instead, they diligently document events as they unfold, delivering unaltered raw footage.
Typically, in the context of diverse styles of wedding video, traditional style editing adheres to the chronological flow of events, bypassing the crafting of a narrative or the investment of significant effort in post-production.
Vintage
If you long to infuse your video with the same nostalgic charm found in your favorite Instagram filters or the cherished home videos from your grandparents' younger years, consider enlisting the expertise of a videographer specializing in vintage cameras and film. Vintage videography encompasses timeless methods of capturing your wedding day, such as Super 8mm film, 16mm film, or other vintage camcorders, and equipment. Of all the diverse wedding video styles, this one not only evokes a sense of nostalgia but also pays homage to the video recordings made by your grandparents and great-grandparents. Additionally, videographers who specialize in creative, narrative, traditional, or documentary styles can also Seamlessly incorporate footage captured with vintage film cameras, creating a harmonious blend of old and new formats.
Storytelling
To create a comprehensive video that tells the entire story of your relationship, not just your wedding day, consider hiring a videographer who specializes in the storytelling style. In fact, among all the diverse styles of wedding videos, with narration, you can incorporate elements that go beyond the wedding ceremony and reception, creating a high-quality memory that chronicles your journey together up to that moment.
Storytelling videographers are skilled at weaving a cohesive narrative from the events of the wedding weekend. They typically incorporate speeches, readings of letters, vows, and other audio elements from your special day to craft this compelling narrative. In some cases, videographers may even conduct pre-event interviews to further enhance their storytelling approach.
Our Wedding Film at Villa Cimbrone in Ravello perfectly represents the idea that this type of narrative wants to convey, all enclosed in the spectacular scenery of the Amalfi coast.
A Guide to Diverse Wedding Video Styles: What's Right for You?
As you delve deeper into your search for different wedding video styles, you can help yourself by looking at the various portfolios of videographers featured on their websites and YouTube channels, to make it easier for you to find your perfect match. 
Here are our tips on how to make the right choice.
Aligning Videography Style with Your Photography Aesthetic
Depending on the chosen videography style, scene transitions can range from vibrant and eye-catching to subtle and seamless. It's essential to ascertain your preference in this aspect. Moreover, videographers often have their distinct color grading styles, so it's wise to choose one that harmonizes with your photographer's color palette. 
If your photographer leans toward a darker, moodier photography style, selecting a videographer who can complement this aesthetic is advantageous. This fosters a seamless collaboration between them on your wedding day and ensures consistency across your photos and videos.
Budgeting for Diverse Wedding Video Styles: The Impact on Photography and Videography
While videography might not be your top budget priority, it's essential to allocate a budget that matches your investment in photography. Opting for an inexperienced or overly busy video team at a lower cost can have a detrimental effect on the work of your skilled photographer and undermine the overall photography experience. It's wise to pay attention to the recommendations of your wedding planner when choosing a videographer. They have the expertise to pinpoint a company that suits your style and vision and can seamlessly work with the rest of the creative team.
If you are looking for professional videographers for your big day, you can take a look at our packages, or request tailor-made services for all your needs.
Choosing the Right Moments: Color Film vs. Black-and-White in Wedding Videos
In the varied world of wedding video styles, specific moments during your special day may be more fitting for color film, while others genuinely shine in black and white. When assessing potential videographers, it's important to inquire whether they employ one or both of these techniques to craft a compelling narrative. 
For instance, occasions such as reception details and specific ceremony elements often benefit from the vibrancy of color, whereas emotional or attention-grabbing moments that capture guest reactions and facial expressions can be powerfully conveyed through the timeless allure of black-and-white.
Soundtracking Your Love Story: Choosing the Right Music for Your Wedding Video
Exploring Diverse Wedding Video Styles unveils the pivotal role of music in shaping the perfect cinematic experience. When choosing a videographer, it's crucial to evaluate how their musical choices mesh with their editing style. Additionally, you should inquire about whether you can request specific songs and how they incorporate other audio elements of your wedding day. 
Videographers dedicate more than 30% of their editing time to meticulously curate the perfect music selection, customized to the couple's personality, vibe, and overall mood of the event. The more attention is paid to these details, the more effectively the couple's love story is told.
Do you prefer an engaging or discreet videographer?
Decide on the extent of engagement you want from your videographer on your wedding day. Do you prefer a documentary-style director who maintains a discreet presence in the background, or do you prefer a directing-focused team that actively interacts with your guests? This is where it becomes essential to conduct in-depth research and ask questions about their filmmaking style.
Also, carefully examine both their editing style and the diverse wedding video styles they offer in their services; If you see lots of shots of the bride and groom interacting directly with the camera or participating in direct, artistic activities, it signifies a greater level of engagement during your wedding.
Matching Scene Transitions and Colors
Depending on the videography style you select, scene transitions can range from vibrant and eye-catching to subtle and smooth. It is essential to identify your preference here between diverse wedding video styles. Additionally, videographers often have their own distinctive color grading styles, so opting for one that aligns with your photographer's color palette is a wise choice. 
If your photographer specializes in a darker, moodier style of photography, choosing a videographer who can complement this aesthetic proves advantageous. This facilitates seamless collaboration between them on your wedding day and ensures consistency between photos and videos.
In conclusion
Selecting the right videographer for your wedding is a pivotal decision that can profoundly impact how you relive and cherish your special day for years to come. The diverse landscape of wedding video styles offers a multitude of options, each with its unique charm and appeal.
Whether you prefer the unobtrusive and natural approach of documentary-style videography, the cinematic beauty of carefully curated films, the nostalgic allure of vintage cameras, or the artful storytelling that weaves together the narrative of your love story, there's a style that perfectly aligns with your vision.
Remember to consider various factors, including your budget, the level of involvement you desire from your videographer, and the importance of music and color grading in crafting your cinematic experience. Additionally, make sure to conduct thorough research, review portfolios, and ask questions to ensure you find a videographer whose style resonates with your preferences and personality.
Ultimately, the ideal videographer will not only capture the moments but also the emotions, the ambiance, and the essence of your wedding day. With their artistry, they will transport you back to that cherished day, allowing you to relive every smile, tear, and joyous moment, creating a lasting keepsake that you and your loved ones can treasure forever.