Personal vows hold a momentous role, not merely in wedding videos, but also in stirring the deepest of emotions. Rooted in the sacred union between two souls, where they solemnly pledge to unite in this life and beyond, personal vows have transcended their original purpose to become an inseparable part of the wedding video's heart and soul. These vows encapsulate genuine promises and stand as a testament to the extraordinary love story shared by the couple.
Consequently, personal vows have emerged as an indispensable ingredient in every wedding video, leaving an indelible mark on the viewer's heart. Yet, their significance extends far beyond mere importance; it carries with it a multitude of compelling reasons that vividly demonstrate how personal vows possess the power to profoundly impact and elevate the essence of your cherished wedding video.
Personal Vows: Infusing Emotion into Wedding Videos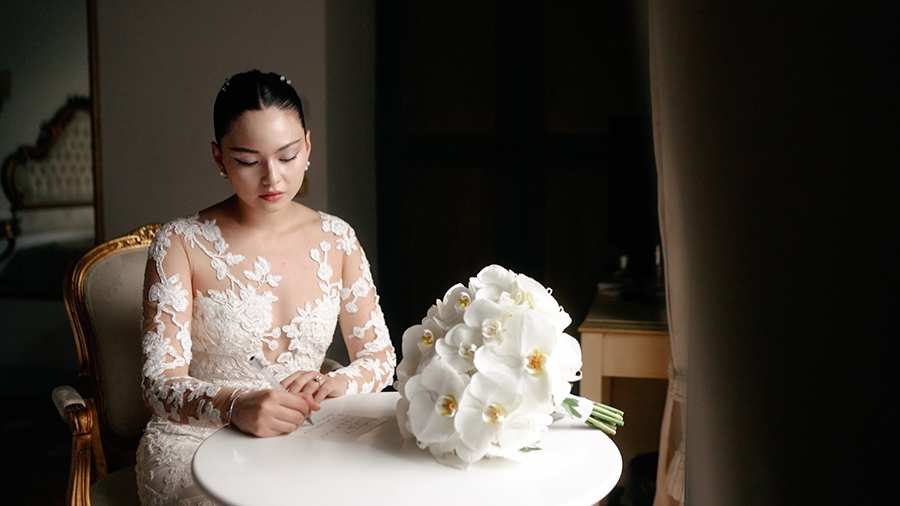 The exchange of personal vows during a wedding holds profound significance as it stirs a myriad of heartfelt emotions, infusing the wedding video with depth and meaning. The essence of an extraordinary wedding video narrative lies in capturing the essence of the moment, the emotions that permeate the atmosphere, and the sentiments felt by all in attendance. It is vital to incorporate elements that deeply resonate with the audience, evoking genuine emotional responses. This is precisely where personal vows shine in a highlights wedding video, as they possess the remarkable ability to elicit profound emotions and heartfelt sentiments. 
When couples bare their souls, vulnerably expressing their innermost thoughts and feelings, it creates a powerful and evocative impact. These raw and authentic moments become the cornerstone of a perfect wedding video narrative. Without such emotional content, a wedding video would lack vibrancy and fail to capture the true essence of the occasion. Personal vows serve as the key to infusing the video with the necessary emotional punch, guaranteeing a captivating and indelible viewing experience.
Creating Heartfelt Vows: Adding a Personal Touch
While traditional wedding vows typically adhere to a structured format, it's important to remember that personalization is key when crafting your own. You have the freedom to deviate from strict conventions and make your vows a reflection of your unique love story. This outline provides an exceptional starting point to guide you through the process and help you create heartfelt and meaningful wedding vows.
Express your love

with the powerful words "I love you." Despite its simplicity, many couples surprisingly overlook including these three little words in their vows. 

Make a solemn promise

to be unwavering through the highs and lows. The core of every wedding vow resides in the unwavering commitment to stand by one another's side through moments of pure bliss and formidable challenges alike. Marriages have their ups and downs, it's crucial to convey your intention to weather those storms together.

Share personal anecdotes

. Friends and family are captivated by the tales of your unique quirks and intimate moments. Guests (as well as your partner) yearn for vows that are genuine, If you've encountered obstacles, share them openly and authentically. 

Make heartfelt promises

. Vows are more than just anecdotes; they are solemn commitments made in the presence of witnesses. However, they don't need to be overly serious. You can pledge to stand by their side forever.
Acknowledge the support of others. As you gather your loved ones to celebrate your wedding, remember that their support will continue to be invaluable throughout your marriage. The presence of supportive family and friends during trying times acts as a source of strength and resilience.
Unlocking Your Words: Tips to Overcome Writer's Block in Personal Vows
If you find yourself stuck with the previous steps, fear not. Embrace these heartfelt tips as you embark on the journey of writing your wedding vows:
Commence early. Allow your vows to take shape well in advance, granting ample time for inspiration to flow, for moments of delightful procrastination, and for the joy of pondering all the reasons behind your resounding "I do!"
Seek inspiration. Explore a myriad of wedding vow examples. The wellspring of inspiration awaits. Yet, remain steadfast in ensuring that your own words shine, for they hold the power to transcend all others. Identify the essence of the vows that resonate with your soul, and weave that enchantment into your own creation.
Create a list. As you sit down to compose your vows, don't fret about crafting complete sentences immediately. Simply jot down every fleeting thought that arises.
If you stumble, seek solace in answering a few questions about your journey:
What thoughts raced through your mind when your eyes first met?
When did the realization of love dawn upon you?
What blessings have you gained since your fateful meeting?
How has your partner transformed your perspective of the world?
Together, which challenges have you bravely faced?
Envelop yourself in memories. Embrace the nostalgia of old photographs, that cherished first love note or other keepsakes that hold the essence of your shared moments. Let each memory act as a gateway to another, igniting a cascade of recollections, until a flurry of ideas fills your heart.
Share thoughts with your beloved. While keeping the final creation a secret until your wedding day, confide in your partner about the style, format, or tone you envision for your vows. Some couples even choose to unveil their vows to one another before the big day. The beauty lies in your joint decision!
Take respite. Sometimes, the most profound expressions flourish when revisited with fresh eyes the following day. If a break beckons heed its call. Remember, this is precisely why you began early on this wondrous voyage.
In conclusion
Personal vows hold a significant role in wedding videos, impacting the overall narrative and emotional experience. They serve as an expression of love and commitment between partners, creating a heartfelt connection that resonates with both the couple and their audience. While traditional vows provide a solid foundation, there is room for personalization and creativity when crafting your own vows. By infusing your vows with authenticity, sharing personal anecdotes, and making genuine promises, you can create a truly unique and memorable wedding video. 
Moreover, acknowledging the support of loved ones further enriches the marital journey, highlighting the importance of a strong support system. Ultimately, the power of personal vows lies in their ability to evoke deep emotions, celebrate the love between partners, and create a lasting testament to a couple's unique journey of love and unity.