Your wedding is a significant milestone, and capturing its memories is of utmost importance. Which brings us to the question: should you hire a wedding videographer for your special day in Positano? This article will explore why choosing a wedding videographer in Positano can be a valuable investment. Moreover, we will offer practical advice to help you make an informed decision that aligns with your vision.
Picture Perfect: How a Wedding Videographer in Positano Captures Your Love Story
A wedding video goes beyond a simple compilation of clips; if you hire a professional videographer, it becomes a cinematic journey that artfully narrates your extraordinary love story in Positano. 
Opting for a professional wedding videographer in Positano brings forth a multitude of advantages, as they bring valuable experience and expertise to document your extraordinary day in high-quality video format. With their arsenal of tools and equipment, they possess the expertise to capture the most flattering angles and possess the editing skills required to transform the footage into a truly captivating final product.
How to choose the right videographer to hire for your wedding in Positano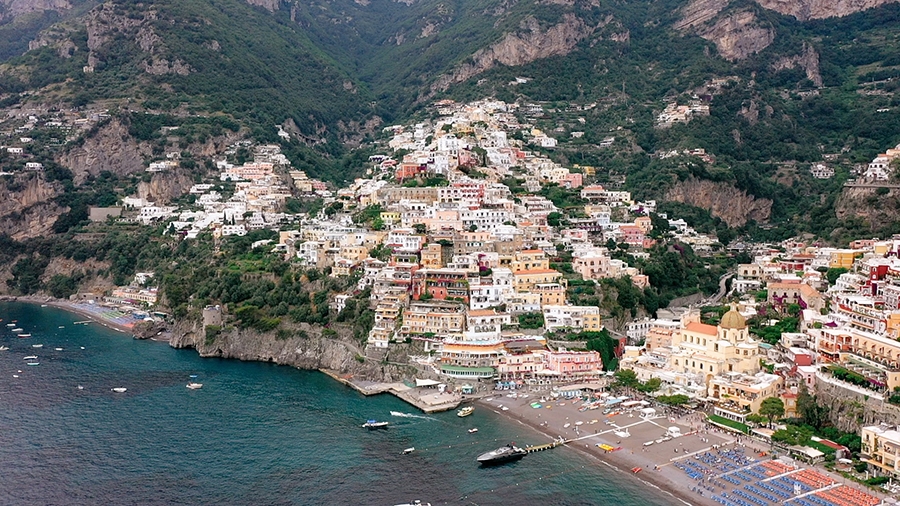 Positano, with its breathtaking coastal views and romantic ambience, stands as an enchanting backdrop for couples seeking an unforgettable destination wedding. Amidst the picturesque beauty and timeless charm, it's only natural to want to preserve every precious moment of your special day in this idyllic setting. That's where the expertise of a wedding videographer in Positano comes into play.
By following these steps and taking the time to research, meet, review, and secure a contract, you can find the right wedding videographer to hire in Positano who will capture your cherished moments with skill and artistry.
Research and Compare:
Embark on your quest to find the perfect wedding videographer in Positano by conducting comprehensive online research. Take your time and carefully explore their portfolios. This will offer you invaluable perspectives into their distinctive styles, techniques, and overall caliber of work. By comparing different videographers, you can hire the one who best aligns with your vision and requirements for capturing your special day.
Meet Your Videographer in Person:
To ensure a seamless collaboration, it is crucial to schedule a face-to-face meeting with your potential wedding videographer in Positano. This personal interaction allows for detailed discussions about your expectations, preferred approach, and any specific requests you may have. It is essential to establish a good rapport and feel comfortable with the videographer who will be responsible for documenting your cherished moments.
Explore Their Packages:
When it comes to wedding videography, packages can differ greatly in terms of services provided and pricing models. Dedicate some time to thoroughly examine the available options and carefully assess the contents of each package. Furthermore, make sure to inquire about any possible additional fees, such as travel expenses or extended editing time. Understanding the comprehensive scope of their offerings will enable you to make an informed decision that fits both your budget and desired level of coverage.
Check Availability Early:
Highly sought-after wedding videographers in Positano tend to have busy schedules, so it is essential to secure their services well in advance. Ideally, you should begin your search for a videographer approximately 8-12 months before your wedding date. This timeframe allows for more options and increases the likelihood of booking your preferred videographer for your special day.
In conclusion
Hiring a wedding videographer for your special day in Positano is a decision that can greatly enhance your wedding experience. Through their expertise, they can transform your wedding video into a cinematic masterpiece that tells your unique love story, capturing every emotion, detail, and precious moment.
By conducting thorough research, comparing videographers, and reviewing their portfolios, you can find the perfect match that aligns with your vision and style. Meeting them in person allows you to establish a connection and ensure they understand your expectations.
Considering the different packages available and discussing any additional charges or services will help you make an informed decision that suits your budget and desired level of coverage. Checking their availability early on is essential, as in-demand videographers can be booked quickly.
Lastly, requesting a written contract protects both you and the videographer, ensuring that all important details are documented, such as the wedding date, location, hours of coverage, and final deliverables.
By following these steps and entrusting your wedding memories to a professional videographer, you can relive and share your special day with future generations, creating a lasting legacy of love and joy.
So, take the time to invest in a skilled wedding videographer and embrace the magic of capturing your love story in a truly remarkable way. Your wedding video will serve as a timeless treasure that you can cherish and share for years to come, allowing you to revisit the emotions and memories of your exceptional day in Positano.