Crafting the perfect ambience for a wedding, from the heartfelt ceremony to the celebratory reception, involves navigating through a sea of inspiring possibilities. With each passing year, the world of weddings introduces us to a myriad of themes and setups, from rustic country charm to elegant vintage vibes, and from the allure of bohemian chic to the timelessness of traditional elegance. Amidst this array of choices, the challenge lies in finding the style that resonates with your vision. If you're seeking guidance in harmoniously coordinating decorations for both the ceremony and reception, you're in the right place.
At SE Wedding Films, we understand the importance of capturing not only the intricate moments but also the overarching atmosphere of your special day. In this comprehensive guide, we're here to offer valuable insights and tips to help you curate a wedding that reflects your unique love story. 
Let's dive into a world of enchanting wedding decoration ideas, where we'll explore various themes and setups while providing you with the simplest ways to transform your venue into a breathtaking masterpiece. Whether you're envisioning an intimate gathering or a grand celebration, we've got you covered every step of the way.
Trending Wedding Decoration Styles: Meeting the Needs of Today's Couples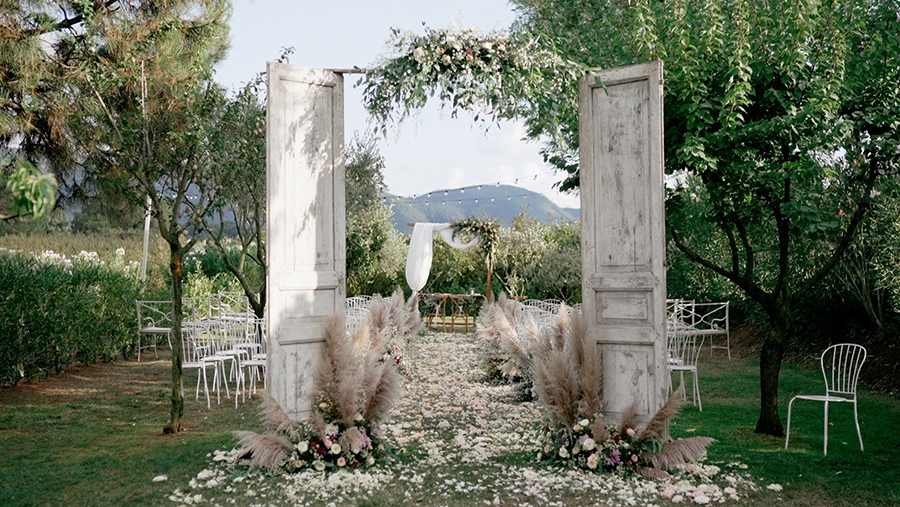 When it's time to choose the perfect wedding arrangement, the initial step involves crafting a cohesive theme. Your goal is to unearth a unifying element that will seamlessly weave through every facet of the festivities. This entails pinpointing a distinct style and weaving recurring components into the entire event. The chosen style will exert its influence across all aspects of the wedding, encompassing attire, venue selection, and even floral compositions. For instance, a rustic farmhouse wedding wouldn't harmonize well with a minimalist aesthetic, just as vibrant and bold hues might not align with a serene beach affair.
Whether you decide to kickstart your planning journey with a specific style or focus on the venue's location, the choice is entirely yours. Nonetheless, we're here to lend a hand by offering a rundown of some popular trends in wedding decoration ideas:
Country-Chic Wedding Decoration Ideas: Tailored for couples uniting their destinies amid the natural beauty of a summer setting. Be it an alfresco celebration amidst verdant foliage or a laid-back gathering, the country-chic motif is bound to captivate hearts. This delightful theme encompasses wooden elements and eco-friendly accents in abundance, crafting an ambience that blends rustic charm with elegance. Ideal settings such as farmhouses or countryside retreats provide a picturesque canvas for this enchanting atmosphere. To harmonize with this theme, opt for exquisite floral arrangements boasting wildflowers and meadow blossoms, infusing a dose of natural allure into the festivities.
Shabby Chic Wedding Decoration Ideas: Merging the rustic allure of country aesthetics with a dash of whimsical charm, the shabby chic style is a perfect fit for countryside nuptials. It holds a particular attraction for aficionados of decoupage and vintage furnishings, who are drawn to its artful restoration of aged pieces, breathing new life into them.
Vintage Wedding Decoration Ideas: Transport yourself to eras past and conjure an enthralling vintage wedding celebration. Whether you're drawn to the opulence of the roaring 20s or the groovy vibes of the 70s, meticulous attention to period-specific details is paramount. Don't hesitate to introduce a specific dress code, plunging your guests into the nostalgic ambience of your chosen epoch.
Classic Wedding Decoration Ideas: Commence your journey with a timeless church ceremony before transitioning to a reception at a villa boasting an idyllic poolside setting. Envision round tables swathed in pristine white linens, adorned with graceful candelabras and an abundance of delicate, softly-hued blooms. The enduring elegance of a classic wedding exudes a captivating allure that transcends passing trends. To infuse a dash of individuality, contemplate curating special corners or establishing an open bar post-banquet, ensuring an unforgettable celebration that resonates with all who attend.
Seasonal Splendor: Wedding Decoration Ideas to Match the Changing Scenery
We cannot stress enough the significance of taking the season into account when offering wedding setup ideas. Have you decided when you'll exchange vows? Will it be in winter, summer, spring, or autumn? Each season presents unique opportunities for decorations that harmonize with their natural elements. For example, winter weddings can showcase enchanting arrangements with berries and evergreen foliage, while autumn weddings can embrace the richness of pomegranates, grapes, and pumpkins. Spring weddings burst with vibrant blooms of various flowers, and summer weddings come alive with the radiant charm of sunflowers and more.
Here are some wedding setups based on the season:
Autumn wedding setup: Embrace the warmth of the season with its rich colours, the inviting scent of chestnuts, and a cosy ambience reminiscent of reading a good book by the fireplace. Fall is the perfect time to adorn your event, as it provides a wealth of extraordinary raw materials that can be transformed into unique and captivating decorations.
Winter wedding decorations: Winter weddings boast a serious affair when it comes to decorations, especially for those who adore the holiday season. The twinkling lights play a crucial role, creating a captivating ambience as the sun sets early in the afternoon.
Spring wedding setups: Blossoming with an abundance of flowers, spring weddings celebrate the awakening of nature in all its stunning beauty.
Summer wedding decoration ideas: Embrace the floral beauty that thrives even in summer! From June to August, go for more vibrant and bold tones, such as sunny yellows, fiery oranges, or regal purples, departing from the softer colour palette of spring. Let the lively hues capture the essence of the season and infuse your wedding with the spirit of summer.
Chapel Charm: Elegant Decor Ideas for Your Church Ceremony
The wedding decoration style is influenced by the chosen theme, country or classic. However, certain aspects apply to all wedding ceremonies. Crafting a perfect church setup depends on the priest's flexibility, as some may prefer simple decorations rather than extravagant floral displays. Here are the key elements to consider:
A long aisle carpet: Opt for a white, red, or green carpet, which has always been a distinctive feature of church ceremonies. It elevates the ritual and adds vibrancy, even to the simplest setups.
Bench decorations: Depending on the season, adorn the benches with seasonal flowers. If the church already boasts ornate features, refrain from excessive decorations. However, if the setting is more modest, let your creativity shine, with the priest's approval.
Altar floral arrangements: For an already richly adorned altar, choose a basic arrangement. Nevertheless, you can repurpose this decoration for the reception, placing it on the sweetheart table, dessert table, or candy buffet.
Outside the wedding church: Although elaborate flower arches may not fit inside the church, consider decorating the exterior with tall flower vases on each side of the entrance, creating a beautiful backdrop for your entrance.
A Breath of Fresh Air: Creative Outdoor Ceremony Decoration Concepts
Whether you're planning a symbolic or civil wedding, your ultimate dream is to have an outdoor ceremony set in a garden overlooking a serene lake or on a picturesque beach, where the warm rays of the setting sun enhance the romantic atmosphere. Another enchanting option that captures your imagination is a forest wedding, surrounded by nature's beauty, reminiscent of the most magical fairytales. With countless wedding setup ideas to explore, let's delve into some captivating options: 
Beach Wedding Setup: Embrace the coastal charm with wooden chairs, cosy sofas, or even beach loungers in elegant shades of white, beige, or blue. Planning a beach wedding is a delightful experience and not overly complex. A must-have for the altar is a captivating decoration, often featuring a wooden arch adorned with light-toned drapes and an abundance of enchanting flowers, capturing the attention of your cherished guests. 
Garden Wedding Setup: If the vision of your wedding unfolds in the garden of a picturesque villa, focus on the focal point—the altar. Enhance it with a magnificent flower arch or a rustic wooden door, creating a grand entrance. As for the wedding chairs, the timeless "Chiavari chair" in white or gold is an excellent choice, or consider wrought iron for an industrial touch, if that aligns with your vision. 
Forest Wedding Setup: For those with a soul that embraces ethereal wonder, the allure of a forest wedding is irresistible. Surrounded by nature's embrace, create an enchanting atmosphere reminiscent of beloved fairytales. Delicate damask carpets replace the traditional white aisle runner, elevating the decor. Choose from various seating options—chairs, large cushions on the ground (ideal for weddings with young guests), or rustic wooden benches, harmonising beautifully with the towering trees encircling the setup. 
Whether you opt for the classic seating arrangement with two blocks of chairs and a central aisle or a circular setup for an intimate feel, ensure all guests have a perfect view of the altar. Pay equal attention to the decoration of the couple's chairs, featuring charming "Mr & Mrs" or "Groom & Bride" signs, elegant fabric coverings, or delightful floral arrangements placed behind the backrests, adding a personal touch to your forest fairy tale.
In conclusion
When it comes to planning a wedding, the options for setup and decorations are boundless. Whether you envision a romantic ceremony in a garden overlooking a serene lake, a beach celebration with warm sunset hues, or a magical forest fairy tale, each setting offers its unique charm and possibilities.
Crafting the perfect wedding ambiance involves harmonizing your vision with the venue and infusing it with your unique style. Yet, orchestrating every intricate decoration can feel overwhelming. This is precisely where a seasoned wedding planner comes to the forefront. Their expertise allows you to relish the excitement of impending matrimony while they deftly manage every decor detail. Leveraging their experience and extensive vendor network, a wedding planner can elevate your chosen theme to new heights of elegance. So, explore your imagination, delve into themes, and embark on the journey of creating a wedding that mirrors your love and aspirations. Cheers to a lifetime of love and happiness!